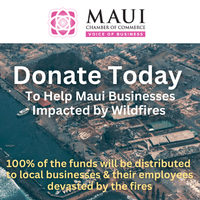 Donations
Please share our donation campaign with your contacts as we work to raise money to support businesses and their employees who have suffered immense losses due to the fire. We are also collecting donations in support of building the new Olowalu Fire Station, a crucial addition to ensure the safety of our communities.
Business Assistance - If your home/business was damaged/destroyed
If you, your home, and/or your business were impacted, please FIRST reach out to FEMA. Earlier we sent out information on the SBA disaster loans, but have learned that it is better to apply for FEMA assistance first as it is a grant. They may then refer you to the SBA loans.
To register for FEMA Assistance, you may call 1-800-621-3362 OR
Visit disasterassistance.gov, enter Maui in the search box, then it will redirect you to a page showing Maui County as a declared county. It may take a few seconds for this page to load. There will be a button under that says "Apply Now".
For additional information on FEMA Assistance, please click the button below for their Hawaii Wildfires page.
When asked about misinformation on FEMA online, Governor Green assured everyone that by requesting FEMA assistance, there is nothing binding or precluding people from other benefits. FEMA is helping with rental assistance and cash grants straight to individuals to help sustain them. If someone doesn't qualify for FEMA benefits, they are working on other benefit programs through the state.
Business Assistance for Economic Impacts
If your property did not face any physical damage, but you are experiencing economic hardship as a result of the disaster, please apply directly with the SBA for the Economic Injury Disaster Loan (EIDL).
For more information on the types of loans offered and to apply, click here.
After creating an account/login, you will need to have your state-issued ID, social security number, and phone number or home address information available.
Access to West Maui
Due to overwhelming demand from non-essential individuals and non-Maui residents, the Maui Police Department on Monday suspended the placard program for travel into West Maui.
Access has returned to what was being practiced previously where residents of West Maui can continue to access through Kahakuloa and folks providing services and deliveries with proper permission can enter.
Unaccounted For Family Members
Please visit the Family Assistance Center at the Kahului Community Center to file a report and provide a DNA sample. If you know someone who lives off-island and is searching for their family member, please have them call the Family Assistance Center and MPD will arrange for their local department to collect DNA.
Unaccounted For Pets
The Maui Humane Society estimates over 3,000 lost animals. They have vet triage stations at the Lahaina Civic Center and Napili Plaza providing medical care on site.
If you are missing a pet, please file a missing pet report. If you have found an animal, please file a found animal report. These reports will help MHS connect people with their pets more efficiently.
HECO Updates
Hawaiian Electric President and CEO, Shelee Kimura was also at the press conference today.
She shared that 12,000 West Maui customers faced outages and all 3 of their transmission lines were severely damaged. However, as of end of day today, they are targeting to restore power to about 80% of those impacted, not including the area in Lahaina town. There are roughly 400 HECO employees from across the state helping as well as numerous contractors and they have shipped in 26 special vehicles and heavy equipment from Oahu to help.
Upcountry, 103 customers are still without power. Unfortunately, with the hotspots in the area along with fallen debris and trees, it makes these efforts to bring those customers back online challenging.
---