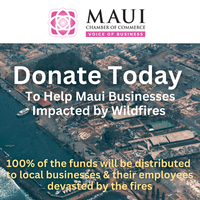 Aloha Chamber Members,
Please see our updates below:
County of Maui Recovery & Relief Efforts
We have had an outpouring of support from our members wanting to help and have been sharing the information with our contacts.
The County of Maui has just released a form you can complete to indicate how you can help! If you are able to help in any way, please click the button below and fill out the form. If you have already reached out to us and offered your support, we encourage you to complete the form as well.
Donate Now for Impacted Businesses
We are accepting donations to our Maui Chamber of Commerce Foundation 501(c)(3) to provide grants to businesses impacted by this disaster. 100% of funds will go directly to businesses for their operations and employees.
Access to West Maui
Update: As of 4pm Friday 8/11, the Maui Police Department Facebook page has notified the community that the road to Lahaina is closed in both directions to the public and only available to emergency personnel. In an earlier post, they announced that there were many people parking on the Lahaina Bypass and walking down into Lahaina town in the locked down area and having to be escorted out by MPD or the National Guard, further delaying search and rescue efforts.
From the County of Maui Press Release today:
Residents of West Maui with identification showing proof of residency and visitors with proof of hotel reservations will have access to Lahaina via Maʻalaea beginning today, Friday, August 11 at noon with measures in place designed to secure the heavily impacted area of historic Lahaina town. These measures include no unauthorized public access beyond barricaded areas and a curfew from 10 p.m. to 6 a.m. daily in historic Lahaina town and affected areas. The curfew is intended to protect residences and property. Access to Lahaina at Maalaea will be closed at 10 p.m. and reopened at 6 a.m. daily. West Maui remains without power and water, and search crews continue efforts in the Lahaina town area for victims of the brush fire. Limited access into Lahaina, with no access into the restricted zone of historic Lahaina town, will be in effect until hazardous conditions improve.
---